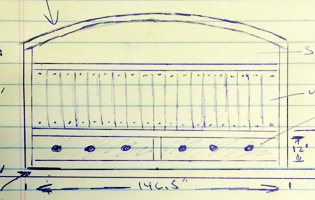 Design
Our metal artisans work in traditional ornamental iron, wrought iron or cast iron but also take full advantage of modern technology by using high pressure water-jet cutting to make highly intricate sheet metal designs. Our iron work will enhance the beauty and security of your home or business with uniquely attractive and functional items for both exterior and interior spaces. We craft fixtures, fireplace screens, furniture, handrails, gates, entry doors window treatments and much more. We provide lasting quality for a fair price. No matter what your design style, San Diego Ornamental Iron has countless examples to draw inspiration from or we can develop your entirely unique concept into a fully functional work of art. Schedule a consultation with one of our masters of metal forming today.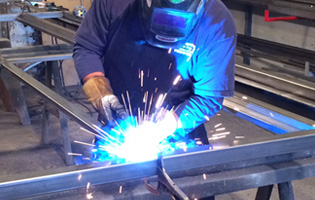 Custom Fabrication
Design and fabrication go hand in hand. Imaginative design work needs to be supplemented with experience and the skills needed to properly fabricate the concept. San Diego Ornamental Iron draws on 35 years of experience during the design process to make sure the end product is as functional as it is beautiful. Our attention to detail and proper engineering, provide the ornamental iron of your dreams with the quality to deliver lasting value. Once the fabrication is complete, your choice of custom finishes is applied to further protect and enhance the beauty.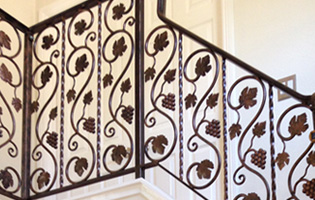 Stairway Railings
San Diego Ornamental Iron stairway railings are as beautiful as they are functional. Straight, sweeping curves or a combination of both, our railings range in style from striking modern to graceful and highly ornamental traditional, the variations we offer are endless. With 35 years of experience, you can rest
assured our railings will provide lasting beauty and are fabricated to exacting standards of safety and code compliance. We have the materials and finishes to perfectly compliment your décor. San Diego Ornamental Iron can transform your plain interior or exterior stairway into a sophisticated focal point
for your home or business.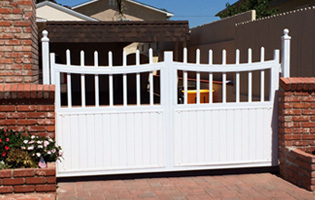 Gates & Fencing
Gates and fencing do not have to be an eyesore. San Diego Ornamental Iron has the beautiful alternative to ugly mesh or frail wood fencing that needs to be painted and/or replaced regularly. We can construct soundly engineered gates and fencing that provide the safety, security or privacy you need while also enhancing the beauty and character of your home or business. Entry gates can be manually operated or entirely automated. Swinging or sliding styles, coded keypads and solar powered systems are some of the many options available. Whether you own a sprawling ranch, commercial property or a tiny cottage we can create custom gates and fencing to meet your needs.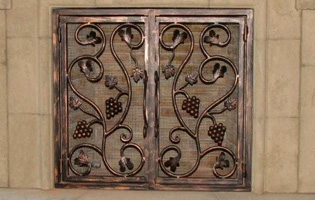 Fireplaces
San Diego Ornamental Iron custom fireplace surrounds enhance the beauty of your hearth while protecting your home from burning embers. Like all of our custom metal work, the design options are limitless. The fireplace has been the focal point of dwellings for centuries. Why not make yours a showpiece that enhances your décor and highlights your personality and style. We can also build matching wall sconces, firewood racks and accessories to completely transform your fireplace.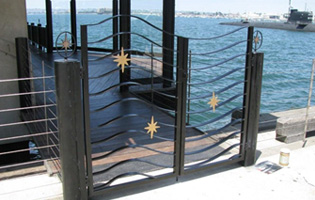 Doors & Entrances
Whether you need security against unauthorized egress or a grand entrance that welcomes people and guides traffic flow, San Diego Ornamental Iron can design and build an entry that will enhance your curb appeal and add character to your home or business. Engineered with the durability to withstand heavy traffic in mind, the structural strength of our custom ornamental iron cannot be beat. Our numerous high quality finishes are as functional as they are beautiful. They are formulated to provide protection against the elements, offer low maintenance and deliver enduring value. Make a lasting first impression with a custom entry from San Diego Ornamental Iron.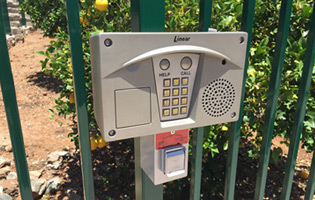 Remote Entry
Ornamental iron work dates back centuries but that doesn't mean you can't incorporate the latest technology into your entry or gate. San Diego Ornamental Iron has various entry systems available. Coded keypad entry is popular. Phone entry systems send a unique ring tone to all the landlines in your business or residence to alert you. You can then speak directly with the parties seeking entry. Video cameras can also be used to aid in the process. Fully remote My Q internet enabled systems allow remote opening and closing using cell phone or PC connectivity. You can grant access from all over the globe where internet connectivity exists.